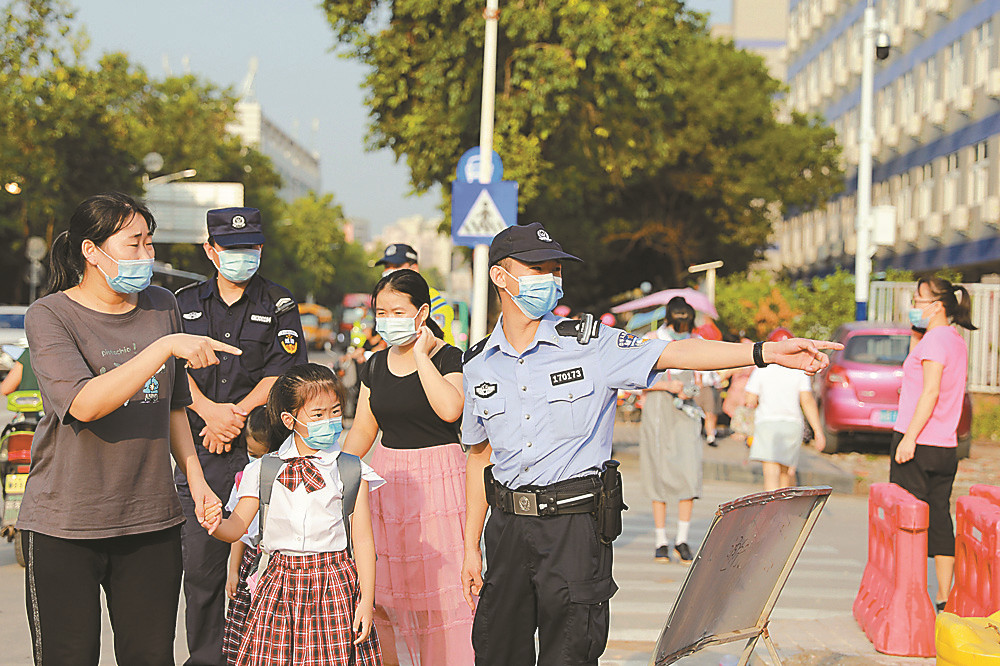 Police officers work to maintain order and ensure safety outside a school in Guangming District yesterday, the first day of the new school year. Zeng Zhihui
A total of 70 newly built, renovated or expanded primary and middle schools were put into use yesterday, offering 70,000 new school places to welcome the new school year as 2.37 million teachers and students returned to school.
Futian, Bao'an, Longgang and Longhua districts and Dapeng New Area each offered more than 10,000 new school places, education officials said yesterday.
In Dapeng New Area, almost 1,000 students were relocated to a brand-new temporary campus. The temporary campus covers 25,000 square meters and has seven buildings. It has a quiet environment and good facilities.
The original site of the school will be renovated into the Dapeng campus of Hong-ling Education Group. The future new campus will have 36 classes.
"The classroom is comfortable and brighter," said Chang Chao, a student of the school. The transitional campus offers more space and enables the school to open more functional classrooms for dance, music and gymnastics, said Li Wen, head of the school.
In Shenshan Special Cooperation Zone, the Shenshan West Central Primary School of Nanshan Foreign Language School (Group) was put into use. Construction of the school was completed in 10 months and it has already enrolled 140 students.
"We have recruited teachers to the standards of Nanshan Foreign Language School in Shenzhen. Some excellent graduates from Beijing Normal University, Northeast Normal University and Tsinghua University will start teaching at the school," said Liu Shuchang, head of the school.
To ensure safety, students are required to go through temperature checks and police have been on duty during the morning rush hours to ensure traffic efficiency.
In September, the first month of the school year, Shenzhen's market supervision authority will perform checks in school canteens to ensure food safety.