Tired of leisurely strolls, and yearning for something more adrenaline-inducing? If so, don't hesitate to check out these glass skywalks and viewing platforms in Shenzhen that give you awesome views and giddy feelings at the same time.
Dadingling Forest Park (大顶岭山林公园)
Rambling on the glass skywalk at Dadingling Forest Park in Guangming District is like walking above a green ocean of trees. Standing at a height of over 20 meters, it straddles a forest and circles into three rings of different sizes.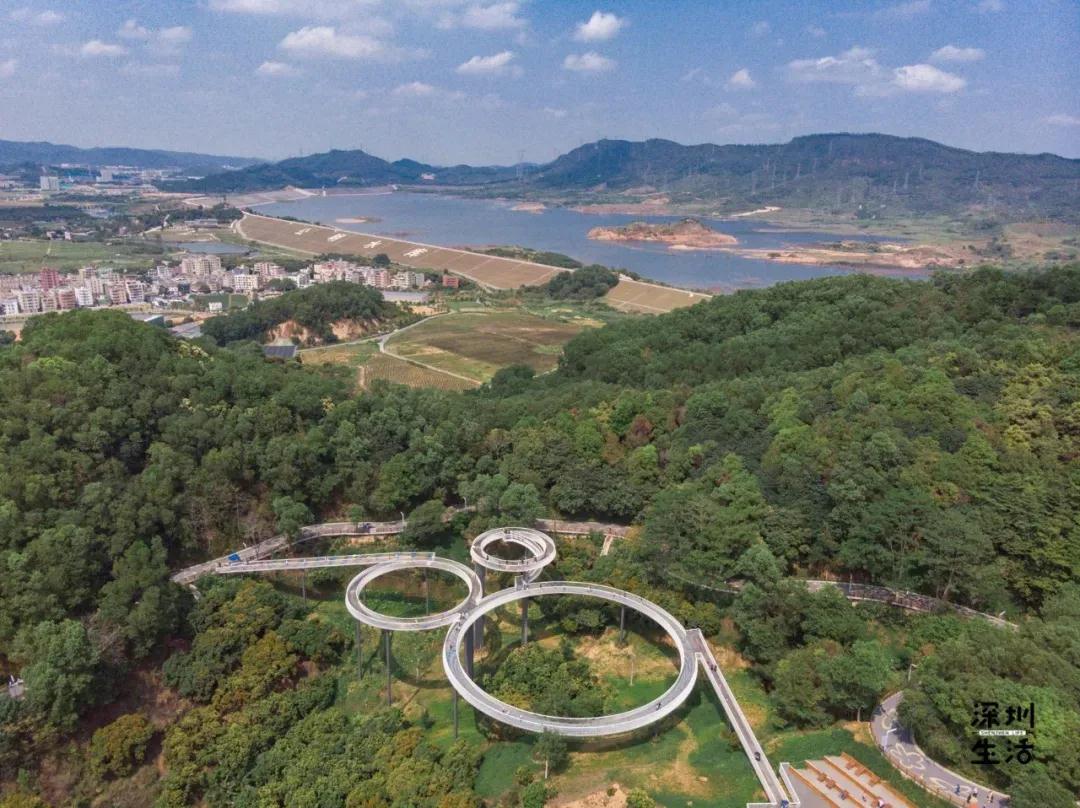 The glass bridge at Dadingling Forest Park. Photos and gif from Shenzhen Life's WeChat account "szsh920"
The biggest one is paved with solar panels that on a clear day mirror the surrounding scenery and provide power for lighting at night. Connected to a greenway that leads to the ground, the skywalk is also bicycle-friendly. At dusk, the whole area is bathed in golden sunlight, and when night falls, the skywalk is lit up in an instant, which is also a delightful scene to experience.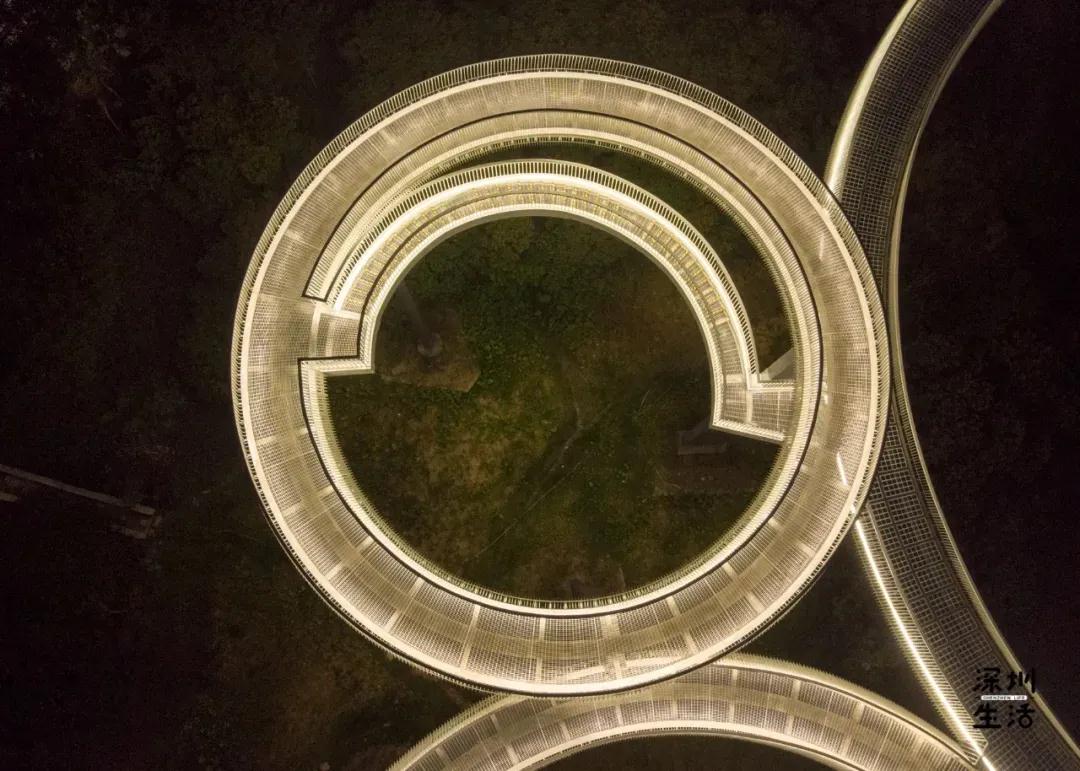 The glass bridge at Dadingling Forest Park at night.
As the skywalk is five kilometers long, it's suggested that visitors take along beverage and food.
Add: Bishui Road, Guangming District (光明区碧水路)
Metro: Line 6 to Guangming Street Station (光明大街站), Exit B and then take bus M451 to Guangming Grass Skiing Park Stop (光明滑草场公交站)
Xili Eco Park (西丽生态公园)
A wonderful city view can be found on the glass viewing platform at Xili Eco Park. On a sunny day, the platform is like a mirror of the sky, thus considered by some as Shenzhen's own version of Bolivia's Salar De Uyuni. Standing on the transparent platform is like standing in the air.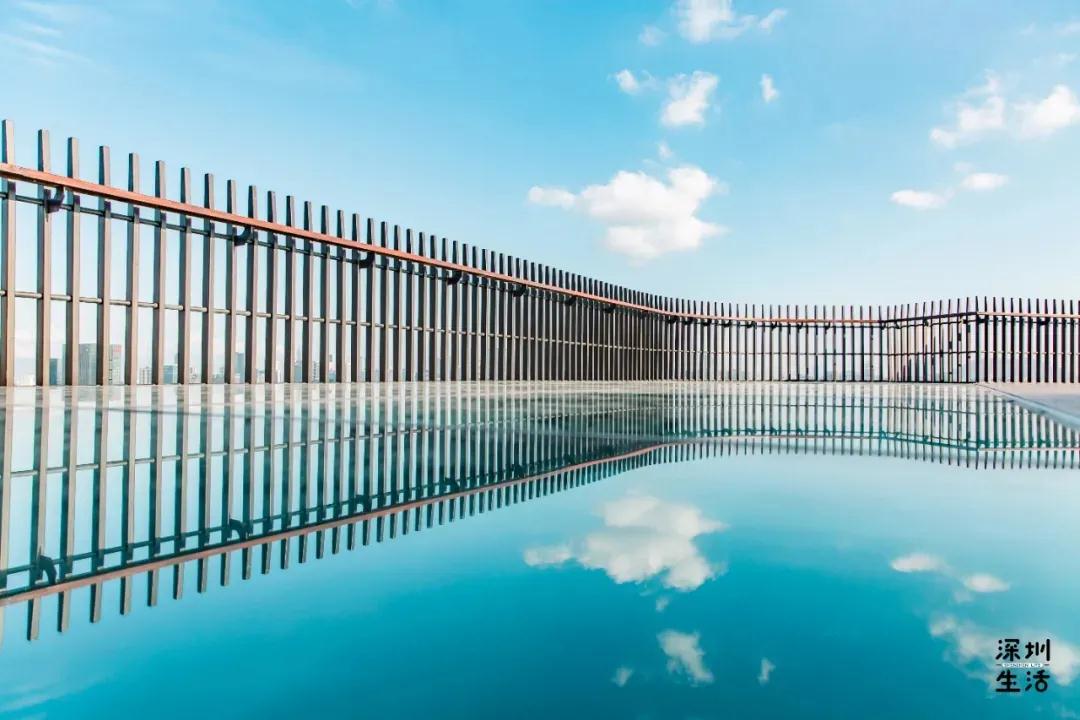 The glass bridge at Dadingling Forest Park at night.
Additionally, visitors may walk along a wooden plank road that meanders all the way to the peak of the park to find three viewing platforms that look out over the central business districts of Nanshan and Futian.
Add: West of Dashi Road 1, Nanshan District (南山区打石一路西侧)
Metro: Line 5 to Liuxiandong Station (留仙洞站), Exit A and then walk southwestward for 1.8 kilometers
Wuzhiba Sports Park (五指耙体育公园)
A 50-meter-long bridge that normally takes a mere two minutes' walk might cost more than half an hour for people with acrophobia were it to be built with a transparent glass bottom. If you're interested in such a bridge, hit Wuzhiba Sports Park in Bao'an District to experience the dizziness.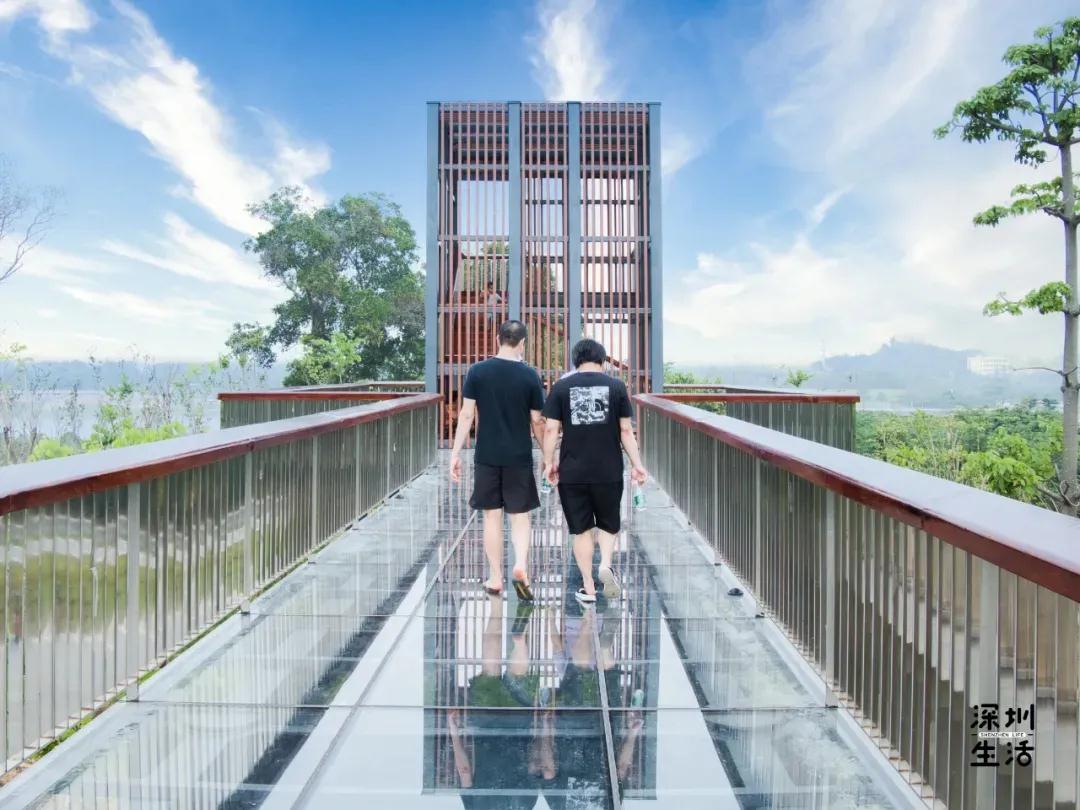 The glass bridge at Wuzhiba Sports Park.
Designed in the style of classic Chinese gardens, the park is well integrated into the natural landscape with its lake and pavilions. Rambling upwards along a hiking trail for 20 minutes, visitors will reach the top of the park to find delightful mountain views.
Add: Datianyang Road 6, Songgang Subdistrict, Bao'an District (宝安区松岗街道大田洋六路)
Metro: Line 6 or 11 to Songgang Station (松岗站), Exit C and then take bus B980 to Datianyang Bus Terminal Stop (大田洋公交总站)
The Yangtai Mountain section of Longhua Huancheng Greenway (龙华环城绿道阳台山段)
If you're looking for a place to spend a whole day in the nature, then Yangtai Mountain is a perfect destination. But the best spot to enjoy a panorama of mountain views may be a glass viewing platform that perches seven meters off the ground. Stretching from a greenway built along the mountain, the platform is not for the faint of heart.
Leaving the platform and hiking along the greenway, visitors will bump into rich scenery of forests, reservoirs and streams running from the mountain top.
Add: Yangtai Mountain Forest Park (阳台山森林公园)
Metro: Line 6 to Yangtai Mountain East Station (阳台山东站), Exit A
Entry is free to all the parks. Visitors are suggested to bring insecticide to keep away mosquitoes and other insects in the mountain areas.